Collaborative design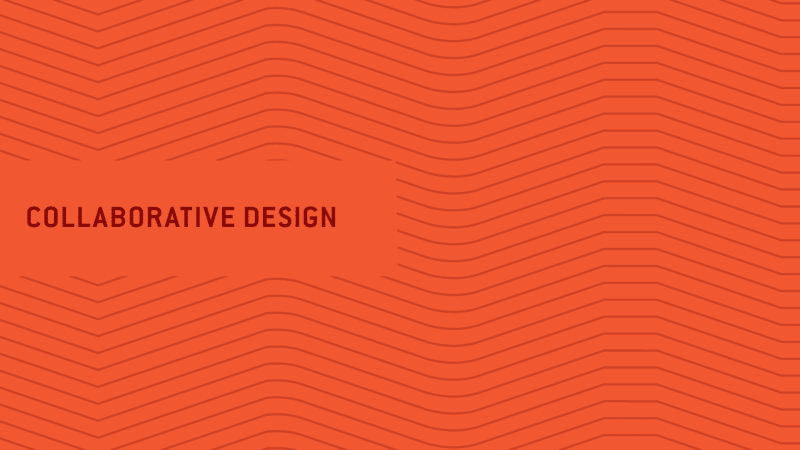 ---
"As designers we wield a big stick, we have influence, and so what is our responsibility?" asks Mike Weikert, Director of the Center for Design Practice (CDP) at Maryland Institute College of Art (MICA). "What do we give back to society?" (Beck, Can Schools Teach) The CDP, along with Project M and Designmatters at Art Center College of Design, is one of a number of new programs engaging students in projects with real social impact. Increasingly, transdisciplinary design collaboratives are volunteering in underserved communities, both nationally and internationally. These projects between the design collaboratives and local communities negotiate sensitive issues of culture, language and race.
---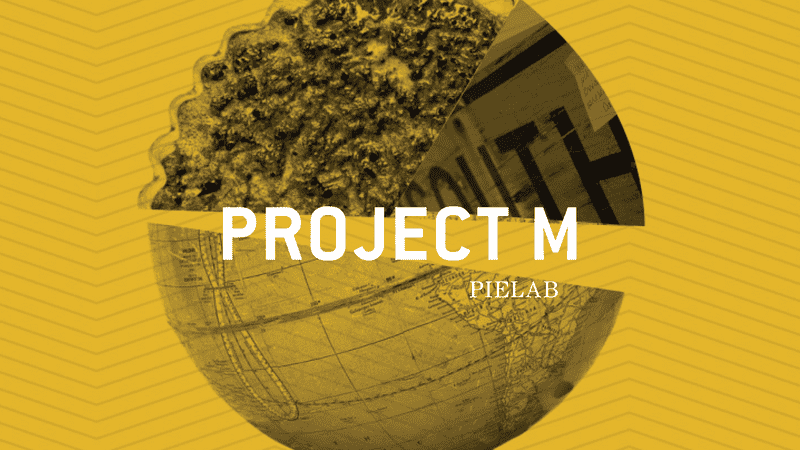 Project M's PieLab
Project M is a design collective founded by designer John Bielenberg in 2003 in Belfast, Maine. Each summer Bielenberg leads a group of volunteers, mostly design students, in community-centered design projects. Inspired by Samuel Mockbee and his Rural Studio, Project M is a way for Bielenberg to teach designers to "Think Wrong," a kind of design thinking that challenges conventions in order to generate contextually appropriate design solutions. (Heller, Mobilize) "Students tackle real projects with real impact," says Bielenberg, "The end product of each M session must be a piece of communication that informs the public about a cause assigned to the students. The possibilities for the solution itself are left wide open." (Walker, Letter M)
The 2007 Project M class was brought to Greensboro, Alabama, to work on a project with the Hale Empowerment and Revitalization Organization. The group created the Buy A Meter campaign in an effort to raise awareness about the number of impoverished Hale County residents who lacked access to the public water system, and raise funds to get them connected. "If enough money is raised to help one family buy a meter, the project will be a success," said Pam Dorr, housing resource director at HERO. Dorr came to Hale County as a participant in the rural studio. "We can make the change one family at a time" (Walker, Real World). As a result of the campaign, Project M helped raise over $40,000 to give 100 residents of Hale County access to public water.
In 2009, at the invitation of Dorr and HERO, Project M began another collaboration called PieLab. A pop-up cafe on a Greensboro side street serving coffee and homemade pie, PieLab was envisioned as a place where locals could gather to enjoy a slice of pie and good conversation. "PieLab provides a neutral environment in a traditionally segregated town where people from every race and class are welcome to sit together and talk candidly about whatever is on their mind," said one Project M participant in an interview with FastCompany. (Edge) Project M saw the conversation as a way to engage the community and inspire local initiatives, and the pie was the way to get them in the door.
The initial PieLab experiment was a success, selling $400 of pie on the first day, and creating connections with locals throughout the summer; Project M designers painted a storefront sign for a salon on Main Street, designed a logo for the nearby town of Northport, and created a website for a local aspiring artist.
From that initial success PieLab moved to a permanent storefront on Main Street, raising $10,000 from a Kickstarter campaign to support the transition. Designers continued to bake pies; they designed T-shirts and posters and decorated the new eatery with old street signs and reclaimed furniture.
Sometimes the outsiders of Project M created tension in their relationship with the local community. In their previous Buy A Meter project, designers employed harsh language to paint Hale County as poverty-stricken, stating that "In Hale County, water is not a right." Designers created another uproar in the community when they employed insensitive language on a promotional poster for PieLab saying, "Eat pie. "F*** cake." The poster clashed with the culture of the locals; designers apologized. "What does some guy in Maine know about my life in Alabama?" asked Ann Langford, Hale County resident. (Edge)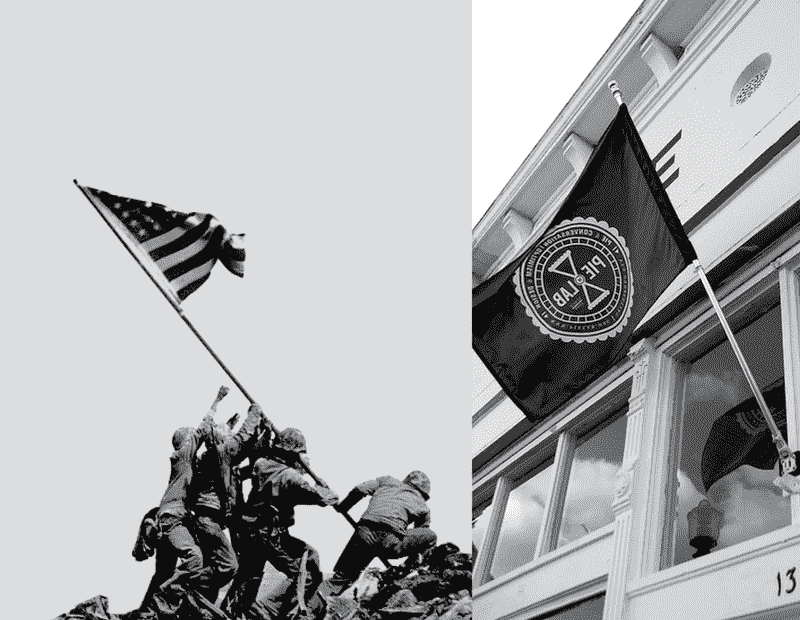 Left: Joe Rosenthal's 1945 photo, Raising the Flag on Iwo Jima. Right: PieLab's seal flies on a flag outside their storefront.
Eventually the design-inspired initiative of PieLab morphed into a locally-led establishment. Pam Dorr of HERO chose to let Project M's funding expire and invest more effort into job-training through the local YouthBuild program. Instead of an informal meeting place only serving pies, PieLab is now a mainstay on Main Street, serving breakfast, lunch and dinner; hosting open mic nights, local artists and musical acts; PieLab is a business model.
The challenge of PieLab was in engaging a traditionally segregated community and creating a neutral place for conversation and collaboration. "Graphic designers get too intoxicated by the craft of design," says Bielenberg. "They're not so interested in how it lives in the world or how it changes someone's feelings or how it makes something happen" (Walker, Real World). One could argue that the initial development of the project was not participatory in nature. Instead, Project M designed a platform, a forum, targeting the local community with the goal of generating conversation about the issues they face. The forum was the design solution that the designers then participated in.
Similarly, the process of branding and developing the visual language for PieLab was collaborative among the designers, but not necessarily informed by any client brief. Designers employed different visual styles when creating pieces for the cafe and the resulting environment reflects that diversity of tastes. Elements of the hand appeared frequently, especially so throughout the physical space of PieLab, from the hours of operation painted on the storefront windows to the chalkboards used to display daily menus. Hand-made visuals speak to the notion of craftsmanship or trade and would be a familiar vernacular in Hale County.
In stark contrast to the hand-crafted aesthetic, designers sometimes created clean modern designs, speaking more to the "Lab" side of PieLab. The PieLab seal is crafted with clean vector lines and geometric patterns. The designs supporting PieLab attempt to reach two audiences and serve two purposes. The first is the immediate audience, serving a more didactic purpose; this is the handpainted storefront typography, chalkboard menus, designs that seem to communicate "this is a pie shop." The secondary audience contains potential supporters, funders, and the larger design community. Some of the same visuals serve the dual purpose of informing the immediate audience while attracting attention from an external audience. The balance between the two is crucial.
Hale County has been put under the microscope before by interloping outsiders attempting to do good. Walker Evans' and James Agee's 1941 book, "Let Us Now Praise Famous Men," depicts the region from an outsider's perspective, painting Hale county as an impoverished rural place (Edge). The reputation they created still resonates and the "poster incident" is an example of the difficulties and cultural sensitivities the outside designers had to negotiate when interacting with the community. Designers strived to keep PieLab a neutral space and avoid inflaming local emotions. Barring occasional language discrepancies, designs visually maintained that neutrality using a typographic approach for many pieces.
While the designers of Project M are no longer the central focus of PieLab their collaboration can still be seen as a success. PieLab has garnered considerable media attention, not only in design circles, and the pop-up-shop-turned-main-street-eatery is still operating and the informal conversations continue within the community. "The success of Project M comes from the experiences young designers have, that inspires them and influences them," says Bielenberg, "The actual projects are helpful byproducts of the more important exercise" (Heller). The transition of direction from Project M to HERO should not reflect negatively on the designers, but should be seen as a change in response to the community's needs.
---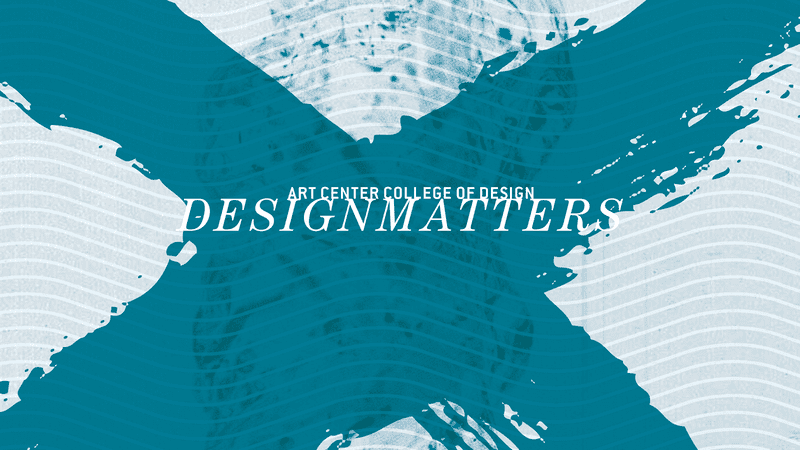 Designmatters and the Safe Agua Project
Designmatters, part of Art Center College of Design in California, is a transdisciplinary studio program focused on developing projects with social impact. Students from all departments have the opportunity to participate creating collaborative, interdisciplinary groups. The program partners with external organizations like UNICEF and American Red Cross to bring real-world projects into the classroom. Safe Agua Chile is one such project conceived in the Summer of 2009 as a partnership between Designmatters and Un Techo para mi País (Un Techo), a Latin American non-profit organization working to improve the quality of life of impoverished families.
For Safe Agua Chile, Designmatters students were tasked with thinking of ways to improve how residents of Campamento San Jose—a slum outside Santiago, Chile—use water. Accessing water in the campamentos is not easy. Residents live without running water and rely on water trucks that come each week to fill barrels for the community's use. For the impoverished residents, the arduous process of transporting, storing, and using water could consume large amounts of time decreasing their quality of life. Un Techo seeks to empower these same residents through social inclusion processes and housing solutions, rather than parachuting all aid and creating an unsustainable dependency. (Herscovitch, Cumulus)
The initial phase of the project involved extensive research. Students first attempted to understand the experience of living without running water; for their one-day exercise in empathy, each student and instructor could only use five gallons of water and kept a journal of how they used it. (Herscovitch, Cumulus) Then the students actually spent two weeks outside Santiago, Chile working with Un Techo, experiencing and documenting conditions of the campamentos, interviewing families, and observing user behaviors. "It was quickly clear to me that my research trip wasn't just about acquiring raw data, quotes, and statistics," said Stephanie Stalker, an environmental design student. "My research was to listen to stories, study faces, sympathize with difficulty, and share in excitement." (Amatullo, Becerra and Montgomery)
Upon returning from their field research in Chile, students spent the rest of the semester collaborating in smaller teams to develop their own concepts and design prototypes; students in the group came from different departments at the school, including environmental design, graphic design, product design, and transportation design. While working on individual concepts, at the same time they all worked towards an over arching goal, to make an impact on the lives of families in the campamentos. Before designing, though, students had to define problems and identify opportunities through their research to make that impact—as opposed to working from a client brief. "We are designing real, actionable solutions to help improve the daily lives of people living in the campamentos," said Jacqueline Black, another Product Design student involved. "Social entrepreneurship is not about charity, it is about reaching out to others, addressing real problems in their lives, and empowering them to bring about the change they desire." (Herscovitch, Cumulus)
There were six resulting projects: Ducha Halo, a portable shower; ReLava, a kitchen workstation; Mila, a community laundry station; Agua Segura, for water purification; Gota a Gota, a running-water system; Index de Innovación, a communication strategy. Index was conceived as a way to share stories of social innovation within the campamentos, through a monthly publication as well as a website—the only project consisting of mostly graphic design. While individually these products are useful, they are also meant to work together to create a system for using and storing water that is much easier for residents of the campamentos. Three products are already being implemented and tested, while the others are still in development phases. Since the end of the semester they also designed and published a book, Safe Agua, and designed a traveling exhibit of all the concepts.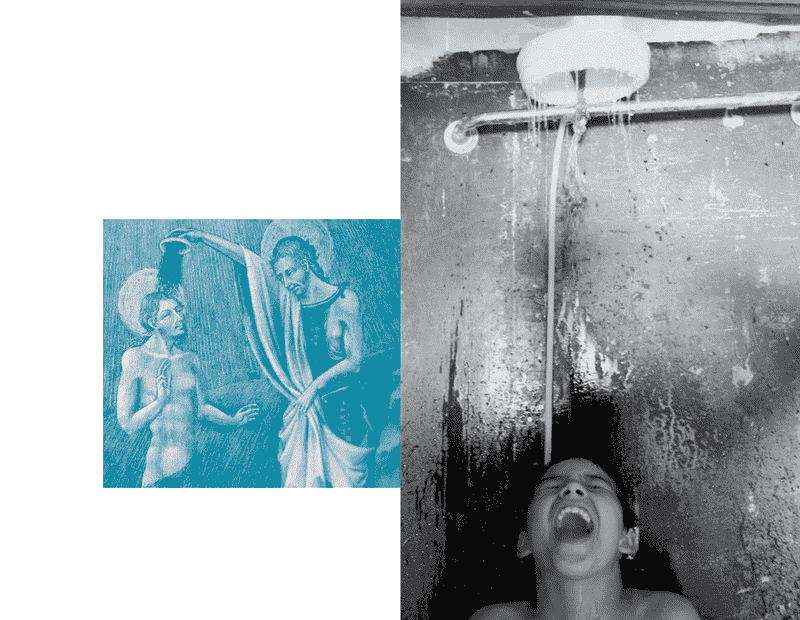 Left: A baptism depicted in a classical painting. Right: A child tests the Ducha Halo prototype.
The exhibition could be considered another branch of the Safe Agua project. Considering most of the aforementioned prototypes or concepts focused on product and industrial design, the exhibition is really where environmental and graphic design became involved, especially concerning branding and visual identity. There seems to be two clashing visual styles competing throughout the project. The first style is based on a logo or wordmark set in a humanist sans serif, all-caps with negative kerning (Fig. 4). The second style seems to follow the Index project and the accompanying publication: a hand-made, vernacular aesthetic, sometimes integrating hand-drawn type with images of sculptural typography (Fig. 5–6). The collage of image and type feels more effective in communicating the innovative nature of the projects and could also be seen as representative of the small innovations happening within the campamentos daily.
But once these prototypes are taken out of context and turned into a traveling exhibit to be shown in museums and expos, the audience, too, shifts. When designing for a community that lacks running water it makes sense to focus on the actual products that will help them and how those products actually function. When those products become part of a bigger piece of communication with the hopes of raising awareness and gaining publicity for the project (not to mention potential funding or sponsorship) the nuances of visual design and communication can take the forefront. Just how do you translate the experience of being in a Chilean campamentos, living without running water? Better yet, how do you translate the experience of an impoverished family—who usually bathes by pouring buckets of water over themselves—finally being able to take a shower with ease? The hand-made, vernacular visual language conveys the very manual, analog quality of life in the campamentos.
In many ways the Safe Agua project could be called successful. The processes behind the project—the empathy exercises, the field research—greatly contributed to the success of the designs as well as the students' experiences. From a cultural standpoint, having the chance to interact with families in the campamentos directly greatly helped students understand the issues involved, develop better design solutions and integrate cultural factors into their projects. Product Design student KC Cho said, "No statistic or data replaces direct contact and feedback from the families. Once we were able to connect with the families, they gave us everything we needed to start the project" (Herscovitch, Cumulus). The collaborative, transdisciplinary nature of the group would have helped create more diverse ideas; in fact, self-critique from the students actually calls for an even more interdisciplinary approach from the start. "In hindsight, we would fully embed business strategy and engineering members within the team from the initial project planning and field research stage" (core77designawards.com)
In some ways it feels as if graphic design played a minimal role in the actual conceptual development phase of the Safe Agua project. The sustainability of the one graphic design piece, Index, might warrant more scrutiny. It bears asking, who would design these monthly publications to be handed out to residents in the campamentos?
Compared to PieLab, the design process behind Safe Agua is much more collaborative between designers and the community. A disparity is created between the abstract design objectives of Project M to "think wrong," and the more concrete goals of Designmatters to improve upon the community's transportation and use of water. There could also be a difference in the cultural constraints; Greensboro, Alabama suffers from a bigger racial divide while the campamentos are dealing with issues of class and poverty. Whatever the case, Safe Agua incorporated field research and user feedback to produce more tangible results.
---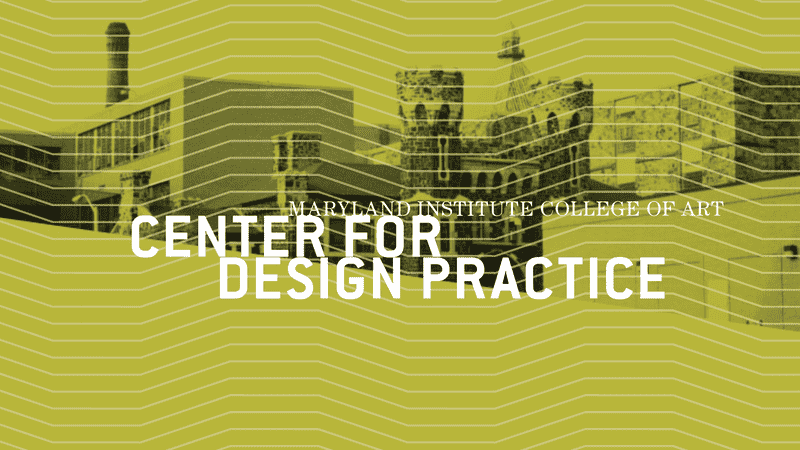 Maryland Institute College of Art, Center for Design Practice
The Center for Design Practice is a graduate program at Maryland Institute College of Art focusing on project-based, social design initiatives. The interdisciplinary program, much like Designmatters, is one of an increasing number around the country, growing and thriving within an educational institution. Programs like this give students experience interacting with communities and collaborating as multidisciplinary design groups in order to define and solve design problems. "This social design education helps develop 'character, empathy, cultural awareness and flexibility,'" says Mariana Amatullo, vice president of Designmatters (Beck, "Can Schools Teach Designers").
At the CDP an emphasis is placed on collaboration with outside organizations and communities, and that collaboration results in meaningful designs that benefit the clients. (Shea, core77.com) Their collaboration with Johns Hopkins Center for Injury Research and Policy to revive an interactive safety education exhibit, the CareS Mobile Safety Center, received positive attention. The project required students to conduct focus groups and design for members of a mostly-Spanish-speaking community. The students then created an iconic system to implement throughout the exhibit and on additional collateral, as well. (Shea, core77.com)
In order to gain more insight into how students in the CDP collaborate—both among themselves and with diverse communities—I emailed Mike Weikert, director of the CDP and MICA's MA in Social Design, to ask him a few questions. Mike replied in February and his answers are transcribed below:
Ken Zinser: When developing a project, in what ways does the CDP collaborate with partner organizations? Are partner organizations involved in brainstorming and idea generation? Is the audience or community ever directly involved in the design process?*
Mike Weikert: We actually develop partnerships with outside organizations before a project is ever implemented. We usually go after grant funding and try to develop project ideas beforehand. Then, once funding comes along, we engage in a collaborative process throughout the 16 week semester. The partner organizations are involved in some idea generation, and we always involve the audience and community in the process. Not to necessarily be involved in the design physically, but to ensure we truly understand the problem and most effective ways to address it.
KZ: Students working on the CARES Mobile Safety Center developed materials for both English and Spanish speaking audiences. Does demographic research result in specific constraints or otherwise inform the direction of a project? How else have students in the CDP approached designing for diverse communities?
MW: Yes, the students spent a lot of time in neighborhoods with mostly Spanish speakers and worked with an organization called the Esperanza Center in Baltimore. We conducted focus groups with both English and Spanish speakers. This played a big part in developing an icon-driven system that didn't rely as much on language.
KZ: How do you measure the success of a project? Is each project unique, are common metrics used, or have you seen patterns in results from project to project?
MW: We are constantly looking for the best ways to define success. Ultimately, beyond funding and design recognition (which are both nice, but not really a measure of success in this space), we are hoping to shift behaviors and be able to show tangible changes in terms of health and well-being. A lot of this needs to be articulated throughout the process, so the solutions are juxtaposed against specific goals and outcomes.
KZ: When students engage in projects with the CDP is there a hoped-for educational outcome? What goals are there for a student's experience, and how much importance is placed on deliverables?
MW: The deliverables are a result of the process. We never defined the deliverables beforehand. We actually sell the collaborative process as the service and the outcomes evolve out of it. We can do this because we are an institution of higher learning, not a design studio or agency. The students are taught design thinking, brand strategy and positioning, community engagement, collaboration. It is a project based learning approach where they work with different disciplines within MICA, but also with community members and other organizations. They also become very knowledgeable about the issues.
KZ: As the practice of social design evolves—and collaborative design groups become more interdisciplinary—what role (or opportunity) do graphic designers have?
MW: A lot is going to depend on the designer creating that role by showing the value a creative can bring into the process. Tangibly, designers are good at taking complex information and making it clear, they are able to prototype and test ideas without being prematurely tied to solutions, they believe in the iterative process (so we're constantly going back to the drawing board and tweaking), and we have a good sense of being generalists and bringing a fresh, creative point of view.
---
Conclusion
Across the country interdisciplinary design programs are developing with a focus on social design, hoping to teach designers a new way of thinking by exposing them to diverse communities. "What students get for their money is an immersion in society's large messy problems (usually in collaboration with local organizations) and insight into how designers can help solve them" (Beck). Colleges and educational institutions are afforded the opportunity to develop best practices in the field because they're not under the same financial pressure that professional design firms and studios are. However, while a student's experience is placed above design deliverables, time constraints of the semester can hamper the final products.
In addition to the ability to convey complex information, a designer's ability to empathize allows them to transcend racial and cultural boundaries in order to innovate within the social sphere. The most successful projects are those whose design brief is generated as a result of field research and interaction with the audience, as we saw with PieLab and Safe Agua. However, designers walk a fine line between collaborator and outsider—as seen especially by PieLab—and will continue to develop their role within collaborative social change projects.
---
---