Ephemera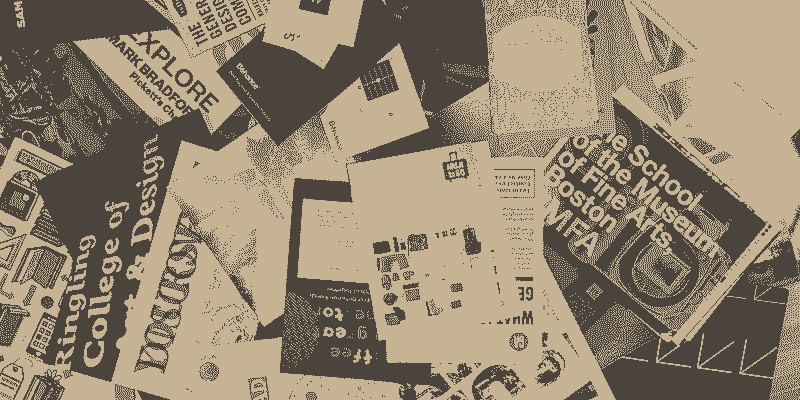 A small sampling of my stuff
When my design practice was focused primarily on graphic identities and visual communication programs, I was always collecting scraps of anything I thought looked cool. Brochures, flyers, stickers, posters, swatch books, paper samples. In the moment, each piece sparked my imagination, inspired some creative thought.
So now I have this collection of stuff sitting in boxes that I rarely revisit, and I can't bring myself to just dump everything in the recycling bin. But maybe you're like me and would appreciate a small, random something? If so, I'd like to send you a piece from my collection. No strings attached.
But why?
In my mind, this project has multiple benefits:
I let go of more physical things.
I get to meet other humans via the Weird Wide Web.
I get to write a short, critical analysis for each piece I send—good creative writing practice, and a kind of memory exercise.
We each get to build our vocabulary for critique.
You get some random thing from a stranger.
You get a story to tell your friends.
How it works
Step 1
Send me an email that includes your name and the mailing address. Optionally, tell me a little about yourself and some of your interests.
Step 2
I'll find something among my papers, write a note about it (that I may or may not publish here), and send it to you via snail mail.
The fine print
I promise not to be creepy. I won't store your information in any kind of database, or use your information for any purpose other than to send you a single piece of snail mail.
Anything I have that can be sent in a standard envelope with standard postage is fair game.
I'll do my best to accommodate all mailing addresses, domestic (US) and international.
I reserve the right to discontinue this project if it becomes too costly or complicated.